Barrel Survey
Hardware
Camera: Teslong Professional Borescope. Available on Amazon.

Procedures
A (C) [Carbon] cleaning is 25 down/back strokes with nylon brush and KG1, followed by (usually 2-4) dry patches, followed by MILTECH-1 oil scrub.
A (Cu) [Copper] cleaning is 25 down/back strokes with bronze brush and KG12, followed by dry and wet patches, followed by MILTECH-1 oil scrub.
A deep (Cu) cleaning will be KG2 bore polish or Montana Extreme Copper Creme on tight patches 25 down/back strokes each, followed by an oil scrub or brake cleaner flush to neutralize the active ingredients and flush out the abrasives.
Cleaning rods are all either Carbon fiber, or coated steel (my preference is Gunslick Carbon), using correctly sized jags, patches, and nylon or bronze brushes as noted. The cleaning rod carries a lot of the solvent/loose material and is wiped down on a rag whenever it is removed from the bore. During the 25 repetitions the rod is not removed and the brush is allowed to fully exit the muzzle before the return trip.
A correctly sized Possum Hollow bore guide is used except when cleaning the chamber and locking lugs.
Great care is taken to ensure the crown of the muzzle is not damaged.
Storage:
Rifles are stored muzzle up, bolt closed. The location is in the desert, humidity rarely exceeds 35%, and even on rainy days the humidity in the shop never exceeds that number. The storage location is insulated and temperature controlled to between 55-80.
AR's are stored horizontally, bolt open.
Barrel survey is a video record of the length of the barrel usually from chamber to muzzle.
As the operator, I may seek out features as they appear. The flexibility of the camera hardware makes precision distance and angle recording impossible, so return-to-feature is impossible. To compensate, video can be frozen and analyzed as stills or frame-by-frame.
Searching during a survey consists of watching the area around the mirror, as well as the image reflected in the mirror. Rotating and 'hunting' back and forth to pause momentarily on items of interest, provides the opportunity to pause playback and/or create a screen shot.
Case neck, leade, bore and muzzle are areas of interest in the survey.

Surveys
Proof Research 223 Wylde Reece Profile 16" 1:8 Stainless Steel 50 Rounds
Initial Survey - Rifle as been cleaned. Primary interest is in chamber alignment.

Below is a snapshot of the gas port.
Below is a snapshot of the chamber's leade area.
This one grove seems to be 'lower' than the others.
Proof indicates on center and uses piloted reamers.
The lands all appear to have the same length.
This barrel was button rifled.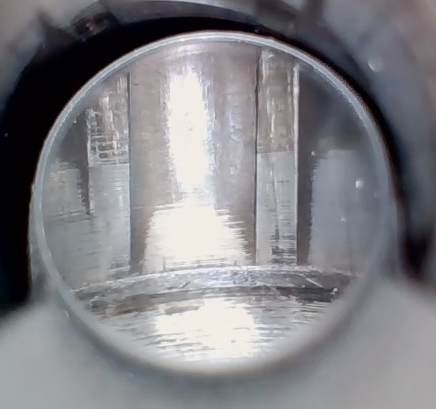 Remington 700 308 Winchester 26" 1:10 Stainless Steel 330 Rounds

This rifle was the last one that Russ Haydon blueprinted.
Russ threaded and installed a Shilen Heavy Varmint 30 caliber barrel, and hand chambered it using his 308 WIN piloted match reamer.

Initial Condition & Survey:
This rifle was (C)+(Cu) cleaned, stored muzzle up in the rack for about four years.
Two years ago, I fired a few rounds at the range and returned it to the rack.
Some of the 'artifacts' looked a lot like stress cracks!
What makes me think there could be a stress crack?
Well, during load development, I inadvertently put 175 SMK's into cases loaded with my 168 SMK Varget charge.
It didn't take long for me to figure out there was a problem! In fact, at the time I was worried that I might have permanently damaged the barrel.
However, subsequent use has shown the barrel still shoots into about 0.3-0.4 MOA consistently.
The barrel received a (C) cleaning, and here is the result.
Now that the barrel is shiny inside, the heat checking is nearly impossible to see.
All of the 'gunk' has disappeared, and very little Carbon, and no Copper are obvious.
Ruger SR 556 5.56 NATO 16" 1:9 Ordinance Steel 1550 Rounds
Initial survey - Rifle has been cleaned, stored muzzle up for about 18 months.

This is a snapshot of the gas port, looking toward the muzzle.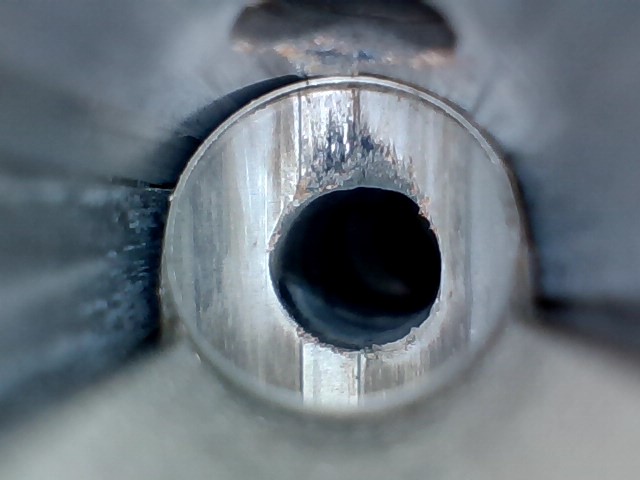 This snapshot shows the step down from neck diameter to leade diameter.
A carbon ring appears to be forming in this area.
This snapshot shows the chamber leade area.
Ruger Precision Rifle 6.5 Creedmoor 24" 1:8 Ordinance Steel 200 Rounds
Initial Survey - Rifle was Carbon (C) cleaned with KG1 and left standing muzzle up, bolt closed for about 10 months.

There were several very ugly patches of ... not sure what ... some that looked for all the world like stress cracks.
This is 'the green blob' . It was located at about 18 inches from the chamber.
Here is a snapshot at about 6 inches into the barrel from the chamber.